Every day we are faced with obstacles, challenges, and situations that force us to reframe our goals, daily tasks, and our dreams. We have to make tough choices when these events take place. We are continually adjusting, recreating, reprogramming, and rewriting our stories.
This guest blog post, written by Debbie Hugg, is a story of resilience, courage, and an unwavering desire to make a difference.
As a leadership professional, I'm always in search of people who take pride and ownership in the ability to make the world, and their lives, better by pushing through challenges and obstacles that present themselves every day. I consider this a critical element of good leadership.
When I first met Deb, I knew I had to hire her to edit my book. She was smart, driven, and pure comedy. She had a smile on her face that first day and I knew this was a woman I wanted on my team. Deb has multiple sclerosis (MS), but it has never once stopped her from proceeding. She busts through each day, on a mission to accomplish. Deb's story is one of true leadership.
LAYING A FOUNDATION
Right when I felt I had little to offer in the realm of advice on how to mentally prepare to approach a tough obstacle or lead a team through a rough challenge, it hit me. Almost as if my late mother spoke into my ear, I imagined her saying, "If you see someone without a smile, give them one of yours."
This simple phrase has stayed with me throughout my life and reminded me that maybe we do share some similarities. Positive thinking is critical to overcoming obstacles or challenges of any kind. A smile can go a long way to telling your brain, 'you got this.'
My mom had severe limitations and pain caused by multiple sclerosis (MS). How could someone facing such an enormous challenge be so positive? But, almost every morning, as my brother and I left for school, my mom would say those words. She believed that a smile had the power to make a positive difference in someone's day. The idea was that if someone is experiencing a tough day or going through a difficult time, and if you could do nothing else to help them but simply smile, then smile.
Mom lost her twenty-seven-year-long fight with MS in 1985, paralyzed from the neck down. Before her death, she couldn't lift her hand to scratch her nose. Despite her seemingly hopeless condition, she never lost her faith and always tried to see the silver lining in every circumstance. She chose laughter over tears. She taught my brother and me how to play chess and backgammon not only to pass on the love of the games and build memories with us but also to help keep her mind sharp. My brother and I never heard her complain about her health or her situation.
All of this laid a foundation for many things I would pull from during my own life challenges and obstacles.
MAKING A PLAN
I was eighteen when she passed. I decided I would honor her life by working, living, and seeing all the things in life she wasn't able to due to MS. I vowed then to live the life she couldn't and see as much of the world as I could—for her. Of course, to do this, I would need to work hard. A good job was one thing, but I needed a career if I wanted to travel. A career meant I would need higher education.
Juggling schedules, study, and sleep while working two jobs, I graduated from Southern Illinois University in 1989, with a Bachelor of Science in Marketing. Post-graduation, my aunt invited me to stay with her in California until I could land a job and save for an apartment of my own. She was living and working in Beverly Hills at the time, so it was a no brainer—I bought a one-way ticket to Los Angeles in pursuit of my new life working and seeing the world. Nothing was going to stop me from achieving my goals. I was laser-focused on success and climbing the corporate ladder.
I had a life plan.
LIVING THE DREAM
I landed my first interview within the first week of living in Los Angeles. It was for a prominent law firm downtown. I was so nervous in my new suit I bought to impress. I rehearsed interview questions in my head, including the big one, "where do you see yourself in five years," to which my friends and I would jokingly respond with, "in your position," as we'd practice together to alleviate the stress.
Happily, I did get the job and worked there for four years until moving back to Chicago to be closer to family. But while there, I learned so much. I saw and experienced as much as I could of the west coast, from Tijuana to San Francisco, including living in Hollywood during the Rodney King riots and O.J. Simpson murder trial.
However, my father was ill at the time and I had not yet been diagnosed with MS and was going strong, ready and willing to take on my next adventure. My attitude was and has always been to live life without fear holding me back. So, I drove back to Illinois alone during a time before cell phones.
DIAGNOSIS FORCES NEW NORMAL
Flash forward to 1994.
I was commuting an hour one-way for work every day when I noticed something wasn't right. I started having trouble making it all the way to work without the need to stop somewhere to use the restroom. In addition to my overactive bladder issues, I lost eyesight in my left eye, and the sensation in and ability to type using my left hand. I thought perhaps work stress was the cause of all the health issues but decided it was time to see a doctor.
One referral, two doctors, one MRI, and one spinal tap later, I received my test results and future prognosis via first-class mail. Imagine my shock when I read the reading neurologist's notes, 'probable MS,' on the MRI test results. That couldn't be right, right? They knew my mom had MS, and they were just reaching. Right? My eyesight returned, and my symptoms had subsided, so the doctors must be mistaken. Right?
No. The diagnosis was real. It was my new reality, and I needed to put my 'big girl' boots on and carry on.
Over the next ten years, I was married, we bought a house, and I continued seeing the world working and traveling for my job. I was also taking care of myself during this time, seeing a neurologist and taking shots for MS designed to help slow disease progression. The shots made me violently ill for two days; therefore, I took the shot every Friday night to not miss a day off work.
This was my new normal.
DENIAL BEFORE ACCEPTANCE
As with any massive change, there are steps we go through before we fully accept the shift. For me, I fought against my diagnosis to some extent by trying to keep things as normal as I could. I didn't want my employer or colleagues to know about my illness. I worried they might think I wasn't capable of doing my job or pulling my weight. I found myself pushing my body to work many 12- to 14-hour days.
But I was feeling the toll and fatigue MS was having on my body. I enjoyed working full-time, and up to that point, I was meeting my goal of seeing the world a little at a time. No matter where I traveled, I made a point to carve out time to see a few of the area's historic landmarks. My job took me to Belgium, Amsterdam, Copenhagen, Jamaica, New York, and the list goes on. I have been blessed with opportunities to tour the house of Anne Frank, walk through the Van Gogh museum, sit quietly and appreciate a Rembrandt, and take a photo op in front of the Statue of Liberty.
These wonderful opportunities were those adventures I always dreamed of and promised for my mother I would experience.
Then came my tipping point.
During a work event in Washington, DC, my team wanted to meet early for breakfast and then take a walking tour of the monuments. It was a warm day during the summer. Starting the journey walking was easy enough, but after an hour, my left foot began dragging, causing me to trip and fall several times. I had to accept I couldn't keep up with the group and bowed out of completing the tour that day.
The jig was up.
RECALIBRATE, NOT RESIST
I've learned it's essential to listen to your body. There is a difference between giving up and getting real. Stress is MS's kryptonite, and it was breaking me down. If I wanted to remain active and productive, I knew I needed to scale back my goals.
To be honest, it was difficult for me to accept that I could no longer work forty to sixty hours a week. But I look at my stepping away from full-time work as a survival tactic. To be your best at any level, you need to be honest about your capabilities and limitations.
With that said, however, it's also true that everyone needs a purpose. We need a reason to get out of bed. I believe it is the responsibility of each individual to find their own happiness or motivation to meet the day. Carpe diem.
I could hear my mother's voice in my head, encouraging me to do and be more. To not let this obstacle stop me from living and being there for others. Afterall, I still had so much to give, I just needed to find my own way.
My aunt once told me that she would rest when they slam the lid to her casket shut. I laugh at this, but I feel the same way. Now was not the time to rest.
LEADING WITH PURPOSE
While not working full-time for a paycheck, I sought to create a new purpose. A long-time passion of mine, I've always seen the arts as a conduit for bringing people together. And returning to my hometown, I recalled all the amazing people that made their start in our small community. And then I had an idea.
I organized a group of local artists who volunteered their time and talent by helping me draft, paint, dedicate, and install a 1,050 square foot mural of local heroes to our town's youth community center. The piece inspires local kids with the message that it doesn't matter what your race, religion, or socioeconomic background, if you develop your skill or talent, you can go places in life.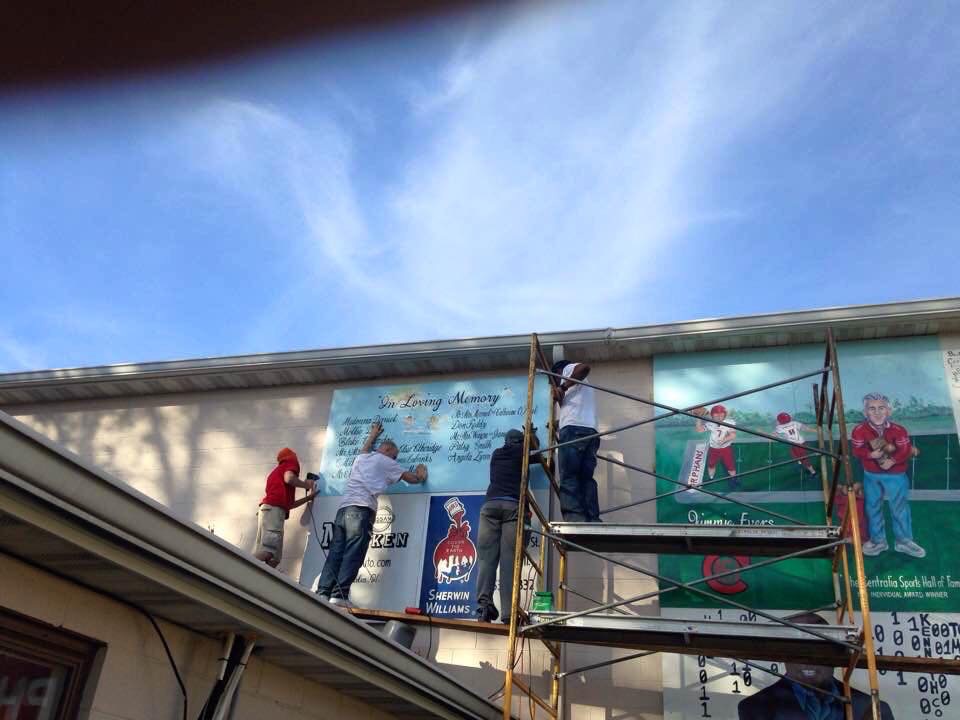 This message and the entire project were timely for many, me included. It was a reminder of just how strong and resilient I can be. And having a reason to get up every morning gave me the resolve to lead others to find purpose and direction, no matter what obstacles they may be facing.
ADJUSTING MY SAIL
I have now been living with MS for twenty-five years. With this illness, I'm mostly in a wheelchair when going places with family and friends. I live alone, and although I don't like admitting I need help, I do have someone that comes to clean and provide other support as needed.
No matter what my plans or goals were, I have since had to adjust my sail and set a new course. I have not given up on living, working, and seeing the world through my mind's eye, seeking adventure through books and movies. I recognize my pace may not be on par with corporate America, but I can still provide a valuable service based on my background and skills. I love to write and now provide my writing and editing services to businesses that need that extra resource. This too brings me purpose as well as joy and pride in my ongoing accomplishments. And I make sure to exercise my body and mind a little every day to keep myself going.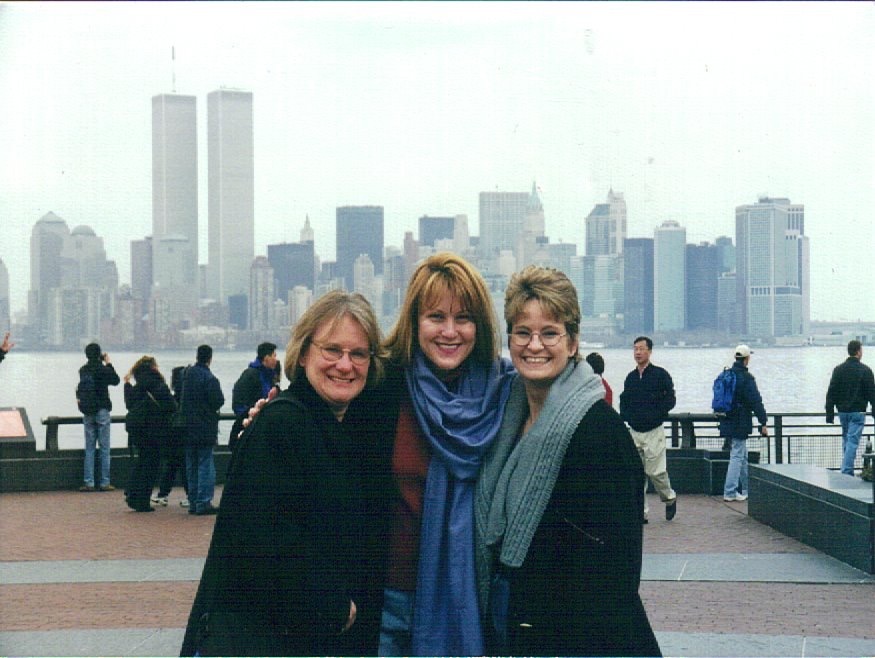 I've been fortunate that all the women in my family were and are fighters. These women instilled the confidence I needed to overcome any fear or doubt in pursuing my goals. My mom taught me about grace in never giving up, my aunt taught me nothing is impossible through hard work, and my grandmother taught me about self-sacrifice for the greater good.
Carrying on with their lessons and a few of my own, I would say learn to be flexible and open-minded in life. Things can change in an instant and turn your whole world upside down, but don't let the changes defeat you or kill your spirit. There are 365 days in a year, and each new day is a unique opportunity to experience life and try something new. And when you're standing on the free-throw line of life facing an opponent, just remember, if you see someone without a smile, give them one of yours.
You got this.